Controlling your blinds
Somfy® offers a wide range of controls that work with all Somfy® powered electric blinds. Whether you want a remote control, wall switch or you're looking for an automated solution, such as a timer or sensor, we've got the perfect solution for you.
With radio technology, there is no electric wiring between the motor and the control. Commands are transmitted via radio waves, even through concrete walls.
Putting you in control
Our range of remote controls boast clever features, such as the 'my' button, which allows you to instantly recall your preferred blind or curtain position. They are so easy to use and allow you to control up to 16 different channels simultaneously. Alternatively, our stylish Smoove wall switches bring lighting control straight to your fingertips.
Single and multi channel options
Easy to use
'my' button to set preferred blind position
Single and multi channel options
Thumb wheel for precise control of duo fabrics
'my' button to set preferred blind position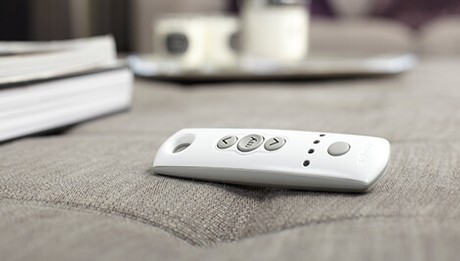 Advantages of radio control
With millions of systems installed globally, Radio Technology Somfy® (RTS) is the absolute best in terms of reliability, flexibility and simplicity of installation.
Wall mounted switch control
Battery powered wall mounted switches can be placed close to the blind. And with radio control, there's no wiring needed.
House remote controls
Radio control is an ideal way to operate your blinds from anywhere in the home. Multi-channel controls can control numerous blinds at the same time.
Single and multi-channel controls explained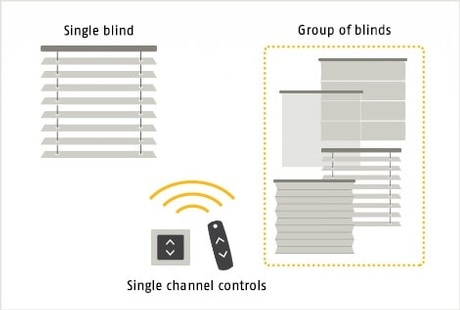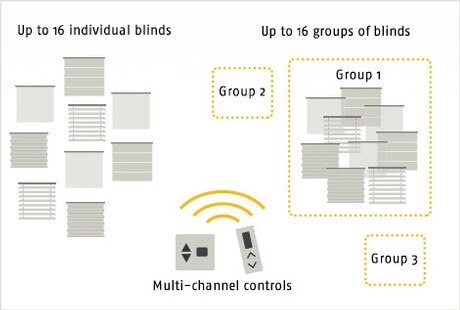 Wall Switches
Somfy's stylish selection of wall switches are the simplest way to operate your electric blinds. They are perfect for anyone worried about misplacing their controls and are available in different frames and colours to complement your interiors.
WireFree™ control
Wall switches are battery powered
Mounted quickly, cleanly and easily
Offers a 20 meter range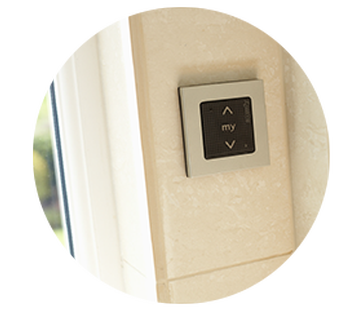 Recommended wall switches
Chronis programmable wall switches
Wall switches from the Somfy Chronis series are wireless programmable wall controls. These wall switches will let you operate your blinds manually or automatically via the more advanced programming.
Daily or weekly programming to automate opening and closing of your blinds
Smart features available, such as Cosmic mode to adapt closing times to the season
Holiday and Security modes to simulate presence when you're away from home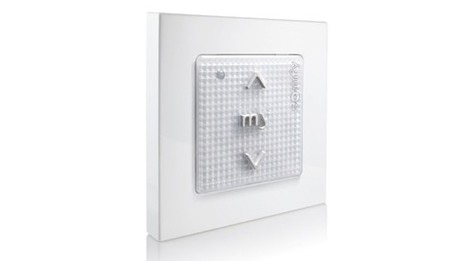 Secure, single channel RTS operates one blind or group of blinds simultaneously
20 meter range is ideal for operating electric blinds anywhere in the home
Choice of open/close or up/down button and 'my' preferred blind position
Chronis Comfort RTS Wall-mounted control to programme the movements of several items according to a timetable
Wireless programmable wall control. General control. Weekly programming: you can programme each day of the week differently and select opening, closing and ""my"" favourite position. Programmed closing times adapt to the season. ""Security"" mode to simulate presence while you are out. The programme can be disabled temporarily.
 Depth : 50 mm
Protection Index : IP3
CHRONIS SMART RTS RTS timer for all RTS motor operated products
 Description
Timer for all RTS products.
Holiday mode and Auto/ Manual will ensure easy operation for all situations.
Technical
Radio Frequency : 433.42 MHz
Color / Finish : White & Grey
Width : 80 mm
Height : 80 mm
Depth : 50 mm
Protection Index : IP 30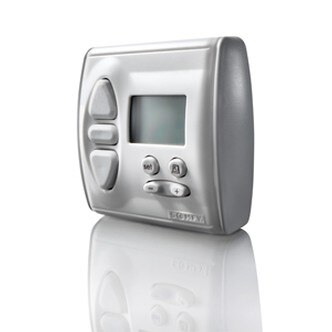 Chronis Easy RTS Wall-mounted control to programme the movements of an item according to a timetable
Description
To programme the movements of a roller shutter according to timetable
Wireless programmable wall control.
Daily programming:opening and closing at the same times every day of the week.
The programme can be disabled temporarily.
Technical
  Radio Frequency : 433,42 MHz
  Color / Finish : White & Grey
  Width : 80 mm
   Height : 80 mm
   Depth : 50 mm
   Protection Index : IP30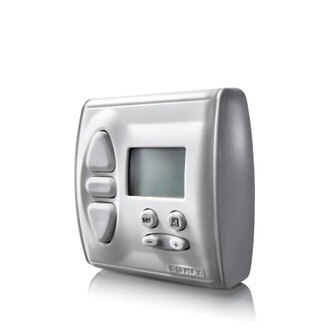 SMOOVE ORIGIN RTS Wireless wall-mounted RTS switch to control 1 application or 1 group of applications.
Description
Up / Stop ("my" button) / Down functions
Open / Stop (« my » button) / Close functions
Wireless
Battery powered control unit. Can be placed anywhere. No cabling.
Fits into german electrical frames (compatible with DIN 49075 standard).
Battery low indicator
Helps with your remote diagnosis (remaining battery life) and ensures that the user's control unit will always be on.
"my" function
Memorises the favorite position of a product and allows you to find it instantly by pressing the «my» button.
Simple to programme and to modify.
1 channel
SMOOVE 1 RTS Touch sensitive RTS wall switch
Description
The new generation of sensitive wall-mounted control units
Clear Interaction:
A discreet audible signal and light indicator
Whenever you select a movement of action, Smoove emits an audible click and provides visual feedback
Touch Sensitive Technology
The feeling of touch
Smooves touch-sensitive design follows the current popular trend for innovative touch-sensitive products
Neat & Tidy:
A simple, elegant design, which even fits standard electrical boxes
Installing the Smoove couldnt be easier. As it is battery powered you can install directly onto the wall, but you can also fit it to a standard electrical box.
 Natural Movement:
With touch-sensitive technology, Smoove interacts fluidly, intuitively and naturally with the home environment
The Smoove switch frames are available in eight different finishes – Pure, Silver, Silver Matt, Black, Light Bamboo, Amber Bamboo, Cherry and Walnut. Choose your frame to match your decor!