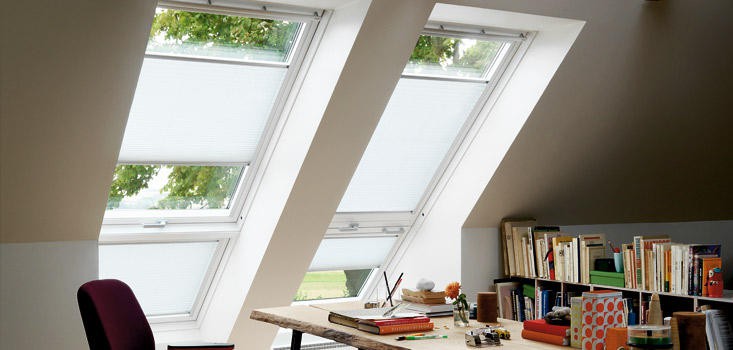 VELUX Pleated Blind
Soft light and decorative effect. Choose between 20 different colours and patterns 2 different operation methods.
The VELUX pleated blind provides an excellent way to control the daylight in your room. The blind is available with top and side channels in aluminium and allows you to create colourful and original light effects that can complement your personal choice of furniture and decor. Furthermore, the flying pleated blind makes it easy for you to adjust the incoming daylight, as it can be positioned anywhere in the window seeing that it's not fixed either at the top or at the bottom (manual only). This provides basic privacy and greater control of sunlight and makes the blind ideal for installing in living rooms or dining areas.
Colourful light Softens incoming light.
Decorative -Beautiful decoration for living rooms.
Flexible positioningNot fixed to bottom or top – allowing 100% flexibility.
Easy installation -Easy installation with VELUX Pick&Click!™ system.
Colours – Choose between 20 colours.
Combine with…VELUX awning blind for additional heat protection.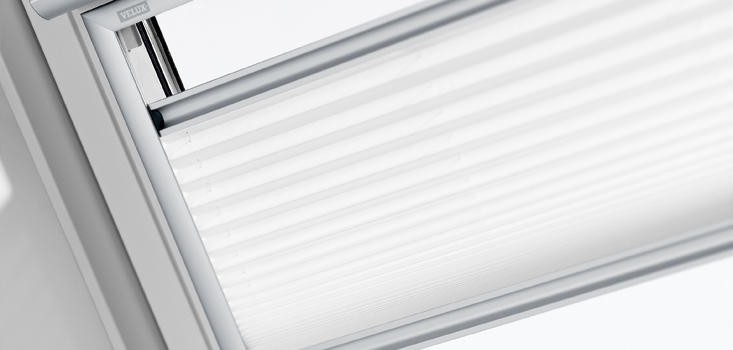 Operations
Manual
Manually operated blinds with controlbar are well suited for roof windows within reach. You operate the blind by pulling down the controlbar. Top and side channels ensure a smooth operation and enables you to position the blind anywhere in the window.
Electric
Electrically operated blinds are recommended for VELUX INTEGRA® electrically operated roof windows. The blind is operated via a remote control which makes it an ideal solution for blinds that are out of reach or if you simply want that extra level of comfort that allows you to control your blind from anywhere in your room.