VELUX Venetian Blind (PML)

Control the amount and direction of light entering your room. Choose between 9 colours and 2 different operation methods.
The VELUX venetian blind gives you complete control of the light, as the slats have no holes and can be angled as you wish, even when the window is open. The venetian blind is an optimal solution for rooms where you want to adjust the amount and direction of incoming light – in fact it is probably one of the most flexible shading solutions offered. It has a high blackout ability when completely closed and is able to offer a full spectrum of lighting effects with it's unique tilt mechanism.
As the blinds are made of aluminium in elegant design with slim side channels it is also very easy to wipe clean and an ideal solution for any room in your home that encounters high levels of humidity, such as kitchens and bathrooms. To further protect against the heat, you can also combine the venetian blind with an exterior VELUX awning blind.
Complete light control – Control amount and direction of incoming light and shadows.
Award-winning
Easy to clean – Water and stain resistant.
Classic colours – Choose between 9 classical colours.
Rooms – Well suited for bath rooms and kitchens.
Combine with…VELUX awning blinds for additional heat protection.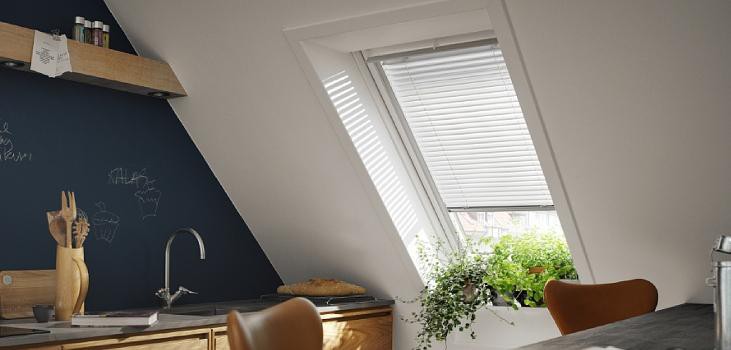 Operations
Manual
Manually operated blinds with controlbar are well suited for roof windows within reach. You operate the blind by pulling down the controlbar. Top and side channels ensure a smooth operation and enables you to position the blind anywhere in the window.
Electric
Electrically operated blinds are recommended for VELUX INTEGRA® electrically operated roof windows. The blind is operated via a remote control which makes it an ideal solution for blinds that are out of reach or if you simply want that extra level of comfort that allows you to control your blind from anywhere in your room.